NAW Signs Ian Walsh
"The Irish Hammer" is the latest signing for the NAW. What kind of impact will he make?
>> Read Full Story


Gaia Wins GPW Championship!
Gaia Galanos carries a lot of gold today. Watch her shocking victory at GPW Bay Area Beatdown!
>> Watch Event


UWL Rankings
The first ever Wrestler Rankings have been released. Check them out!

NGSE's Debut Card Announced!
NGSE's first card has been announced! Check out the four match Event!
>> Read Story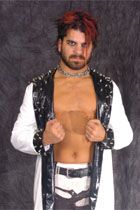 Cameron Kaiser Signs w/ ACE
ACE continues to be the plACE. Kaiser is signed.

Jason Orion: The Underdog
UWL's Justin Killpatrick sits down with Jason Orion to learn why he dropped the name 'The Vanilla Midget'.